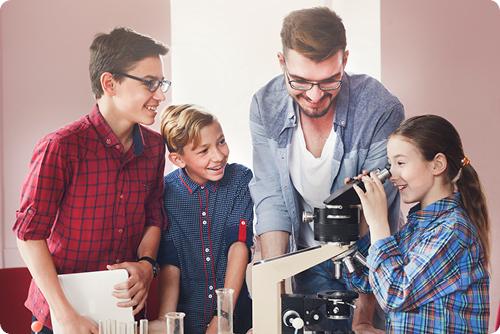 Personal approach is one of the priorities of the PriorityGO concept that we apply to all our schools. Based on the interconnection within the group of PRIGO schools and because it covers all levels of education, we have a unique opportunity to offer our students the possibility to participate in the new BuddyGO system, which moves the meaning of 'personal approach' to the next level. Targeted mentoring connects different levels of education in the group of PRIGO schools. This way, our students develop the today's highly valued qualities, such as responsibility and activity on the mentor-side and easier integration on the mentoree-side.
New school, new environment, new schoolmates and new teachers – we take our personal approach really seriously. We'll find a Buddy from a higher educational level for every student. Your Buddy will guide you through the school, give you a tip on interesting school events and become your team mate. Loneliness will never trouble you. You'll make a successful team with your Buddy, and you may represent your school at various events. You'll also be a team of two friends who help each other.
Mentoring at the high school is important particularly at the very beginning of studies, before the students find their way around and create their own school social group. An experienced Buddy already knows the school system perfectly and is well informed about the school and extracurricular activities. New students can contact their Buddy, whose experience they can rely on during the difficult transition period. All they need to do is to write an e-mail or text him/her on Messenger to get the information they need.
You can have a look at how mentoring in the PRIGO schools looks here.