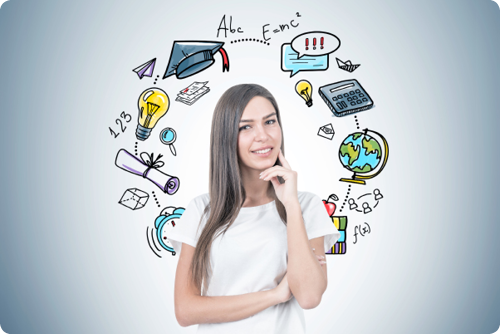 PriorityGO is a unique trademark-protected approach to education that is based on the combination of individualization of teaching, modern didactic methods and respect for the challenges of contemporary society. In the educational process, we emphasize ethical, ecological and intercultural topics, and help our pupils and students to face technological and other changes of global space that they live in, with respect to our regional traditions.
The PriorityGO approach is thus based on ten principles:
Applying traditional educational objectives within the "Czech school" concept, highlighting the challenges of 21st century globalized environment
We are a "Czech school" adequately following the traditions of our cultural environment. We build on the good elements of our educational system, refusing to unthinkingly draw on inappropriate foreign experience. However, the way we apply the Czech educational tradition addresses the needs of the 21st century and reflects the role of the Czech Republic within the European as well as global context. With regard to all educational system levels, we endeavour to educate proud Czech citizens able to succeed in professional as well as private life both in the Czech Republic and abroad. Our pupils, students and teachers are encouraged to develop respect for each other as well as to maintain critical respect for authorities.
Individualization of education and client-oriented approach to individuals receiving education
We make use of every possibility to individualize education. We limit the traditional lecture-style instruction to a reasonable minimum, significantly deploying foreign best practice in this area. Individualization is not perceived as a mere reduction in the number of pupils and students receiving education from one teacher. In fact, this concept is considered to be much broader. We believe that the nature of individualization consists in helping individuals receiving education to discover their strengths and weaknesses. Individualization of education enables us to help students and pupils find a suitable way of applying their knowledge and skills in further education and practice, always with respect to their individual feelings and needs. We use the client-oriented approach when working with all our students and pupils because we consider education as a public service and calling. We teach our pupils and students to maintain adequate and critical respect for authorities and observe good manners.
Promoting international cooperation and language learning
We consider it important and essential to further extend education received in the Czech Republic towards gaining foreign experience or applying acquired knowledge and skills abroad over the course    of studies here in the Czech Republic, and also over the course of post-Bachelor´s foreign studies or practice. Our group is one of the few educational institutions authorized to carry out foreign-language instruction in certain subjects, or to offer accredited foreign-language study programmes in a vast majority of ours schools. We promote student exchange programmes over the course of studies and after their completion, too, trying to help our students establish themselves abroad as well. Our educational group also includes a language school authorized to conduct state language examinations. International mobility of pupils, students as well as teachers is above the usual standard. In addition, our schools are also attended by foreign pupils and students.
Project approach
We reasonably integrate project work in our instruction, always respecting cultural traditions and taking account of the challenges of the international environment. Projects constitute a significant part of the instruction itself in individual subjects or disciplines with regard to the type of school. However, we also use project work as a tool helping our pupils and students focus on specific areas of interest or civil society activities. Last but not least, we teach students in tertiary education to set up projects and subsidy opportunities.
Two-way intergenerational exchange of experience and respect
We build on the unique opportunity of sharing intergenerational experience among individual schools of our educational group covering all types of schools in our educational system and including children from the age of two up to senior fellow-citizens studying in University of the Third Age programmes. We create opportunities for promoting intergenerational respect and experience exchange both inside all our schools and among them. Older pupils and students become mentors to the younger ones, which enables us to significantly increase the educational process quality as well as help our pupils and students assume more responsibility. Similarly, mentoring is also supported among individual groups of our teachers. Natural respect among individual generations is also promoted by means of informal events that we organize for all age groups.
Supporting the personality development of both students and teachers
Having individualized our instruction and integrated intensive personal and career counselling in the instruction itself, we enable each individual to develop their optimal abilities. We endeavour to support our pupils and students in putting their effort into areas in which they are able to succeed instead of making them waste their potential on disciplines offering only limited opportunities for their development. We also try to adequately develop optimal abilities of individual teachers. Moreover, we carefully form suitable groups of teachers and pupils to make their mutual interaction compatible with learning goals.
Promoting an ethical approach to life and education
In line with the traditions of our own cultural space and especially with regard to the challenges of the surrounding globalized environment, we focus on both formal and informal transfer of experience as well as moral postulates to education, always taking account of the level of specific studies and the age of students or pupils.
Education for sustainability and environmental education
Our pupils and students are encouraged to respect not only one another, but also the surrounding environment. By offering a suitable combination of learning and volunteering activities, we direct them towards sustainable behaviour and environmental awareness, always in a reasonable way without being dogmatic.
Application and use of modern technologies
We focus on the use of modern technologies in our instruction and in the offered fields of study, but always with regard to study objectives as well as personal development of pupils and students. We try to deploy mobile and other technological devices in our instruction and other activities in a sophisticated way, aimless use such devices is not supported.
Integration of exceptionally gifted individuals into education
The schools belonging to our group largely aim at educating exceptionally gifted pupils and students, i.e. those whose intellectual abilities substantially exceed the average. At all levels of education, our schools educate individuals capable of critical synthetic thinking, displaying transferrable competences,  prepared not only for life-long learning and accepting criticism, but also for sharing their knowledge    and experience with others. Our aim is not to integrate disadvantaged pupils, e.g. pupils with severe autism spectrum disorders. However, we are able to encourage exceptionally gifted individuals with minor difficulties to be versatile by means of a suitable combination of educational activities at school supplemented by extracurricular activities. We cooperate with the University of Cambridge in this area. In some of our schools, exceptionally gifted pupils and students account for more than a half of the total number of pupils and students.